SIVOTA
The cosmopolitan resort of Thesprotia
PICTURESREMINDING OFTHE CARIBBEAN
Sivota develops around a picturesque small port, with paved promontory. The green hills and the houses with the red tiles create a spectacle that calms you down. This cosmopolitan part of Epirus is gifted by nature, as it is drowned in the green while the beaches with crystal clear waters capture even the most demanding visitor. They have a perfect tourist infrastructure and are an attraction for thousands of visitors every year. Sivota and Plataria have a marina and can accommodate small boats.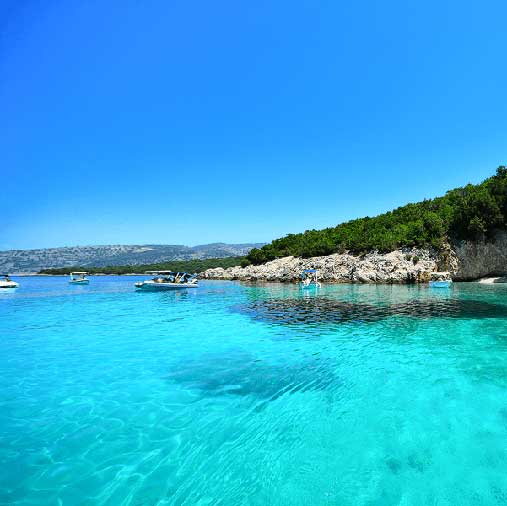 CRYSTAL CLEAR WATERS
the beaches
Bella Vraka has two main characteristics that make her stand out. Initially its shape, as this exotic beach, actually connects Sivota with the island of Mourtemeno with a narrow strip of land. Especially if you see the pictures from above it surprises you while if you are there to take a dip in the cool waters you will find that you have to literally walk in the sea.
Pisina beach is surrounded by crystal clear, turquoise waters that are actually transparent. It is undoubtedly one of the most beautiful beaches not only in Greece but also in Europe. And of course her name is not just coincidental. To reach the Pisina beach, you must take a boat and cross to the uninhabited island of Sivota.
Mega Ammos beach is a beautiful beach with pebbles and cool blue-green waters. It is picturesque and organized with umbrellas and sunbeds, as well as with refreshments and fish taverns. You will find it going to Sivota from the village of Perdika, after the beach Mikri Ammos. It is full of life from the beginning of the season until the end.
Mikri Ammos beach is a small, picturesque and cool beach. It is special and organized, as it has a bar and food. Its waters are crystal clear while the sandy beach consists of fine and thick pebbles. You can also find sun loungers, parasols and ample parking.